Now that we've covered all the new advancements in mobile technology and business intelligence, it's time to zoom out and take a look at the bigger picture. The golf industry has seen a significant push towards online tee time marketing over the last decade. These days most golf operators have taken advantage of golf management software, and many use online tee time distributors to sell rounds online. The question is whether the usefulness of these golf management software suites are optimal when it comes to cost, integrations, updates, and features. Despite some of the negativity felt by the industry, we believe in tee time distribution as help helpful strategy if you partner with a distributor that respects your brand and allows the freedom to market your course to your database.
For golf operators of the future, effective golf management systems must be built on a highly integrated experience that features a point of sale (POS) system. That system has to communicate with every part of the tee sheet and customer resource management (CRM) system. While the average golf management suite includes standard features such as reporting, online booking, and member management, a truly futuristic golf management system doesn't require any serious hardware investments, and improves regularly with monthly updates and feature addons.
Let's take a look at how online distributors have affected the industry and why an integrated club management system can pull all these concepts together.
Is online tee time marketing the future?
For the golf industry, the past decade has been marked by one specific disruption: online tee time distribution. Since the the early 2000's a multitude of golf operators have allowed a large portion of their tee times to be bought and sold and online by a number of online distributors. In principle, these platforms look very promising. Golf operators don't have time to create their own online marketing strategy or leverage their own online booking engines to promote tee times, so it's a no-brainer to market tee times online through an aggregator. What's so promising about these tee time aggregators is their ability to broadcast tee times to a huge audience, generate a lot of clicks, and ultimately drive bookings to the course.
The problem is that these booking platforms have become so popular among golfers, most golf operators feel obligated to keep giving huge portions of their tee sheet away in order keep attracting players to their course. Unfortunately, when operators do this they sometimes get cannibalized by their own distributors who can discount tee times against full price rounds by up to 80%. This has resulted in a long decline in green fees for many golf courses.
Tee time distributor deals are appealing in theory, but can leave golf operators feeling trapped and exploited. Despite this negative perception, online marketing is a powerful tool for getting your course in front of new potential customers. Let's take a look at a few strategies that can help golf operators get the most out of online tee time marketing and regain control of their customer base:
Engaging local distribution
Using course resources
Turning the distribution model into a social platform
Leveraging business intelligence and mobile booking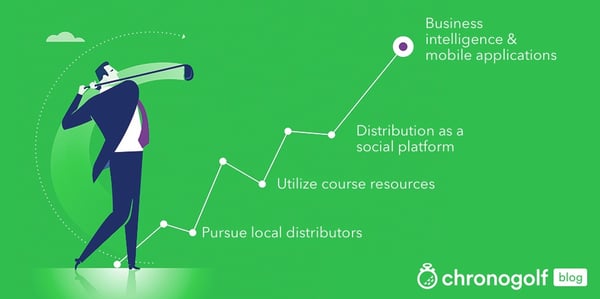 Engaging local distribution
It's seems that with all these huge companies distributing discount tee times, we've forgotten about locally focused tour operators and tee time packagers. These companies aren't going to slash your trade tee times by some huge percentage. Local distributors are much more concerned with giving you back control over your customer database and promoting your brand, as your brand and customers are what ultimately give them legitimacy and drives revenue. Of course, there are some larger distributors who share this philosophy, but that's because they have recognized that local tour operators and tee time packagers are getting right when it comes to satisfying golf operations. Under this model, all the benefits of online distribution can be enjoyed since the distributor is focused on keeping you happy.
It's no secret that the internet offers a lot opportunity for exposure. Nowadays 15% to 25% of rounds are booked online, so chances are many golfers book rounds at your course through the web. The reality is that most searches for a round of golf are made locally. This means that a golfer looking for a round is going to search for a golf course in your immediate area. That's why it's preferable to pick a distributor that promotes your brand first. A good tee time distributor, big or small, with a local focus, will give priority to promoting your brand as you see fit.
Local distributors are getting very creative with how they market tee times and push your brand. For example, one distributor uses a points based membership model whereby players receive a set number points for the season redeemable for rounds at a selection of courses. The player can choose to play a bunch of rounds at a cheaper golf course or they can go to a premium facility a couple of times. In this situation, the distributor can accommodate the variety that larger distributors are known for while offering more freedom to the consumer than ever before. Under this model, the course itself is given the opportunity to promote its own brand while also assigning a fair value to a round of golf at its facility. Consequently, its own players can take advantage of increased booking freedom and flexibility.
Choose a distributor that has a good number of courses in your area and allows you to promote your own specials directly from the tee sheet as part of their club management software. This gives you the ability to share discounted tee times with players who are looking for a round in your area. The takeaway is that your tee time distributor should give you the opportunity to get your course in front of customers from other golf courses without sacrificing the freedom to promote and sell tee times.
Realistically, golfers only search for tee times outside of their local area when they are going on vacation. Here the big distributors are at a disadvantage, especially if the player is looking for a premium experience. Tour operators, who organize trips for vacationing golfers, are becoming increasingly attractive partners for locally focused distributors since they have a much better pulse on what's happening in a given market. Choose a distributor that allows you to sell packages directly through their online service. For example, you should be able to sell a three-night getaway directly through the distributors website. By selling golf packages, ticket books, and event tickets online your course can properly engage with all potential customers, regardless of whether they are a long time member, normally play at a competing course, or are from out of town.
Be realistic about how much exposure you really need from your online tee time distributor. You are unlikely to benefit from them advertising their brand on TV or having your course on the same website as 5000 other golf courses around the world. Does it serve your facility to sell precious tee times on a website that solely promotes itself as the place to get cheap tee times? For the golf operator of the future, it's so much more important that your online distributor represents courses locally.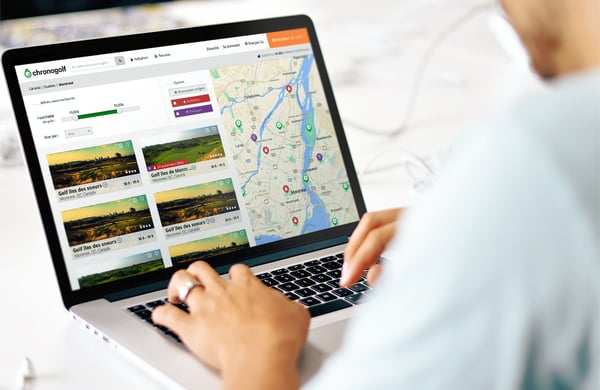 Using course resources
With all the tools and resources social media puts at your fingertips, having a major distributor promote your tee times online is becoming less important. The golf operator of the future knows that social media, digital marketing, and web marketing strategies are just as important as using a distributor for promoting tee times online.
The key to optimizing your social media messages is cultivating an audience and consistently reminding them of your offerings. You need to develop a strategy that encourages customer engagement on Instagram, Twitter and Facebook. It's not enough to send one message randomly, it has to be regular and consistent with your brand so be sure to set up a schedule and stick to it.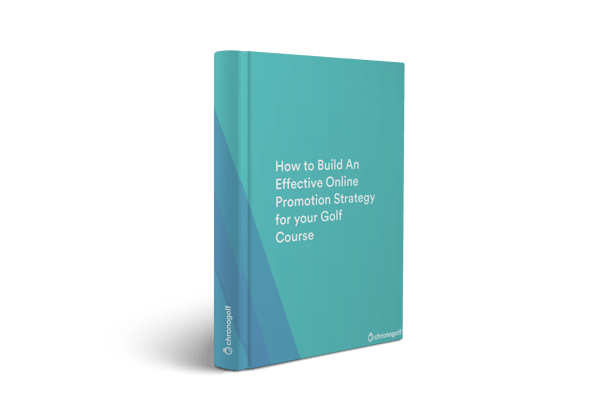 Learn more about building an online promotion strategy
One thing golf operators are noticing is that when it comes to search results, distributors are very good at getting their websites near the top of every golf related query. These distributors usually have a very high search engine ranking since they have such huge websites and invest hundreds of thousands of dollars into search engine optimization (SEO). This means that a search for a round in your area will likely display their website above your course in the search page result. If you partner with the distributor it's not necessarily a bad thing, as your course will still appear on the distributors website. However, the golf operator of the future should consider improving the course's SEO ranking to drive players directly to the course website instead of to an aggregator.
SEO is a fairly complicated concept, but in the simplest terms it's all about making your website easier to find by Google's search engine algorithms. Want to test your SEO ranking? Simply input a Google search for golf courses in your area and you'll see where you rank amongst all the competition. If you're disappointed by the results, don't worry! There are many strategies for improving SEO, but all of them take consistent effort and a significant time investment. We recommend recruiting someone who can build you a properly optimized website, write content for your course, and maintain social media channels.
There are many strategies for improving SEO. Some simple approaches include:
Having a well designed website
Publishing golf related content regularly
Having a social media presence
Registering your business on Google Maps
Encouraging online reviews
When it comes to online marketing, the golf operator of the future won't have to solely rely on tee time distribution. Social media is an incredibly valuable resource that permits operators to reach their own audiences consistently with deliberately repetitive messaging. That valuable exposure to a highly qualified audience is just as valuable as a discounted tee time on some aggregator website. Implementing a simple social media strategy and adhering to best practices in SEO is a sure fire way of generating bookings and saving on distribution costs.
Tee time distribution as a social platform
Golf is a social experience, and your online booking process should reflect that. This is what booking a round of golf will look like in the future: a player logs into either your website or to the distributors website, submits a list of ideal playing partners, and then receives an optimal group tee time based on the playing habits of all four players. This technology is now available through the power of artificial intelligence (A.I.) and business intelligence (B.I.), and revolutionizes every major interaction: booking the round, meeting up at the course, playing golf, and dining at the restaurant.
Some online tee time distributors let players browse each others playing profiles and make social updates within the golf community. The internet is incredible for its ability to start conversations. Knowing this, golf operators of the future should get their golfers talking about their course online. This will only drive more interest and ultimately bookings at the course.
Social booking appeals to millennials in particular given their internet sensibilities and desire share their lives online. If you want to make a serious push to attract more millennials, turn online booking into a social platform. Let your own golfers attract more customers for you while engaging new young players. It's well known that millennials prefer modern experiences and are more likely to engage with technologically savvy golf courses.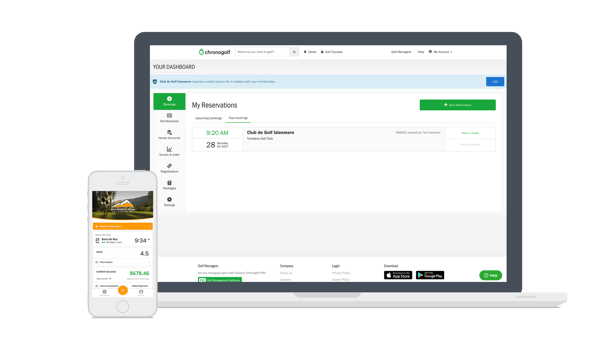 Leveraging business intelligence and mobile applications
In Part One, we covered how business intelligence and mobile booking can benefit your golf operation. A dynamic, easy to use online booking system that ties these concepts together through a custom mobile application has the power to take your tee time marketing efforts to the next level.
One side of the equation is that mobile booking is steadily replacing traditional, browser-based booking. Reservations are increasingly being made on smartphones instead of browsers. If you decide to enter into an agreement with an online tee time distributor, ensure that they can offer a mobile application that incorporates your course's branding and has social media functionality.
Business intelligence features prominently here too. Utilize your POS to identify exactly who is reserving tee times through online distribution. This data will tell you precisely who you need to reach to get them booking directly on your website or custom mobile application.
Pair these powerful tools with your social media strategy to connect with potential customers in a much more personal way.
Business intelligence collects valuable data on social media, buying, playing, and email interactions. This information will tell you both how to interact with your audience and what to tell them based on, purchases, tee-time, and partner preferences.
Mobile applications provide a direct channel straight to the front of the customer's smartphone. Enhanced messaging is sure to increase engagement, simply because it's so easy to open up the app and book a tee time in response to a push notification. Using business intelligence to tailor your push notification messages for each customer is especially effective.